Behavioral Nutrition Individual Counseling Testimonials: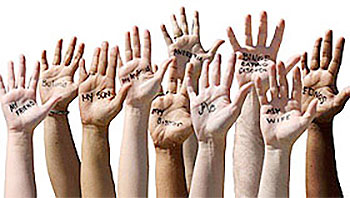 The experience I have had at Behavioral Nutrition has been life changing. I have struggled with compulsive over eating for years and have tried all the popular diets, and even had seen a nutritionist but it never worked. Why? Because while all of these deal with how you eat, they never deal with why you eat. Behavioral Nutrition combines both psychotherapy and nutrition counseling for a combination that is sure to work for anyone looking to change their life. Learning about what makes me turn to food and learning to control that has had a huge impact on my daily lifestyle. I have learned self control and working with a therapist, I have been successful in a huge overhaul of my previous bad eating habits. This is the place to go if you want to truly get a handle on any sort of issues with eating, nutrition and making those lifestyle changes you have promised yourself over and over again you would make.
-S.N. Norwood, Ma
As parents, one of the most terrifying and frightening words to hear are: your child has an eating disorder. Usually by the time it is diagnosed the symptoms have reached a crisis point and immediate intervention is needed.

When our child was diagnosed we had to scramble for treatment. So many questions, so many different suggestions from the professionals…it was truly a confusing and frightening experience.

After exploring other local ED facilities and speaking with their coordinators it became apparent that Behavioral Nutrition Inc. offers a very unique and individualized treatment alternative. From the first moment we spoke with Nicole on the phone we felt reassured our child would be in the best of hands. She thoughtfully and patiently explained the process of intake, assessment and treatment. She answered and reanswered our questions. We were treated with dignity.

The physical layout is most conducive to healing as it doesn't have the cold clinical layout associated with most facilities. The center represents a holistic and peaceful presence. This was a major plus for our child who had never been treated.

Nicole and our dietician Jenna put together a plan of treatment that made sense and addressed our anxieties and uncertainties. A medication evaluation was readily available. We believe it was this specialized care that made all the difference as our child wasn't treated as a number. When our insurance company attempted to restrict the amount of treatment days, Nicole went to bat for us and secured the treatment that was needed.

Our child is now entering the recovery phase and continues with aftercare at Behavioral Nutrition Inc. The regular visits with her dietician and therapist have been essential which is addressed during the admission process by Nicole and her team.

We will be eternally grateful that Nicole, Jenna and Behavioral Nutrition were there for us in our time of need.

– Parents of a former Partial Hospitalization Patient
I came to Behavioral Nutrition an overweight person with very unhealthy habits, including compulsive night eating and binge behaviors. Nicole has brought to me a comprehensive toolbox for handling my situation — nutritionally, emotionally, behaviorally and cognitively. When I see my counselor each week, I know she understands what I am going through, and I am always impressed by her compassion and range of knowledge. She uses the right tool at the right time — whether it's a relaxation technique, nutritional counseling, journaling exercise, or talk therapy. At my sessions, we focus on my whole self, not simply my weight or dress size. This perspective inspires me from the inside out and provides me with greater optimism about my future. I still have a way to go, and I know this is a journey and not a sprint. But unlike the person who first came to my counselor, I have confidence in my body, have actionable insight into how I can be healthy, and have started to reach my goals. Thanks!
-A. MA
It is not always easy to realize, recognize and accept that sometimes life presents to us situations, circumstance or people that we just can't overcome alone. I know for myself seeking a therapist was something I needed and could benefit from but my strong will and confident ego led me to believe I could overcome my issues alone. After numerous attempts ending in failure, repetition of the same cyclic pattern and friends I burdened with the weight of my issues. I finally decided enough was enough and realized I can't do this alone without the help of therapy. I completed a simple google search and came across behavioral nutrition. I was very nervous, a little resistant and feeling vulnerable but once I finished my first session with the counselor I knew I had made the right choice! The biggest mistake one can make is to settle with feelings of unhappiness or like the issues you may be battling you can't overcome because you can! Anything is possible and life is what you make it!
-C.B.
The integrative approach that Behavioral Nutrition offers in dealing with mental health, weight, and eating issues is innovative and inspiring, Nicole has taught me how deeply interconnected these issues often are and that there are no concrete solutions that apply to everyone (i.e. the reason diets don't work). Through her great insight, support, and knowledge she has shown me how to incorporate kindness, compassion, and understanding to deal with my personal difficulties. Nicole has also guided me to gain a deeper perspective on how one's thoughts play a very significant role in determining feelings and subsequent actions related to maladaptive eating patterns as well as other behaviors. If the American public knew the close association between thoughts and behaviors, we would more than likely not live in a society where obesity is an epidemic and addition is so commonplace. Behavioral Nutrition's approach to dealing with the feelings underlying eating and dysfunctional behavior gives me great hope that I may recover and learn more adaptive ways in dealing with life's issues. I am grateful to have found a therapist with such a deep understanding of the mechanics behind dysfunctional eating behavior and encompasses such a holistic approach in her practice.
-M. Quincy, MA
I've been coming to Behavioral Nutrition for just 6 weeks and already the way I view food has changed. Nicole has given me real tools I can use in my everyday life and they are working because I'm already down 35 pounds. My favorite thing about it, though, is that I am learning to give my body nutrition through food instead of just eating. Learning to feed my body and aligning my mind with those principles is truly setting me on the right track to a life of eating correctly. And it doesn't mean dieting. Thank you Nicole for your love and care.
-M.M. Quincy, MA

Group Counseling Testimonials:
Group creates an environment of peers who are experiencing the same things as you. Nicole walks everyone through the fundamentals tied to all of our behaviors in a way that is both generic enough for the group, yet individual to gain better understanding for our actions.
-S.K. Quincy
I was hesitant about starting group at first, but I am so so happy that I decided to dedicate an hour a week to attending. Spending time interacting with others who could relate and offer their support while learning positive strategies was more beneficial than I could have imagined. It's such a unique and powerful experience.
-A. Boston, MA
Behavioral Nutrition's group therapy sessions are informative, supportive, and very well structured. Nicole is highly knowledgeable in the field of behavioral nutrition relating to various eating disorders. She is thorough and very helpful in her approach to the group. I would highly recommend Behavioral Nutrition's therapy sessions to any individual who is struggling with an eating disorder.
-M. Quincy, MA
The experiences in the group setting complemented the individual sessions wonderfully. Experiencing being in a group and being able to listen and learn from people with different backgrounds is invaluable. I have learned to think about things from other group members I would have never thought of. We all share common bonds and I recommend the group counseling to anyone who wants a great, informative and fun compliment to their learning.
-S. Quincy, MA

Recent News